Are you looking for the best Los Angeles concrete floor coatings for your new flooring project? Epoxy floor coatings are one of the most durable and toughest flooring systems that can be installed over a concrete surface. While concrete is the most durable flooring system,  Los Angeles epoxy floor coatings preserves and enhances the structural integrity of concrete floors.
Why Choose Us?
Epoxy Floors Los Angeles are the experts in epoxy floor coating installation. We take pride in installing epoxy floor coatings in residential and commercial spaces in the Los Angeles area. We can install epoxy coatings over new or existing concrete surfaces.
We have professional, expert and well-experienced epoxy coating installers in our team who are licensed, bonded and insured. We can help transform your dull looking garage into an aesthetically appealing space. We can also give your commercial space an appeal that can make customers come back for more.  We can  make your industrial space a safe workspace as well.
GET A NO OBLIGATION
FREE QUOTE
Fill out this form and someone from our team will reach out to you shortly.
Difference between Epoxy Floor Coatings and Epoxy Paint
Are you one of the many who confuse epoxy floor coatings and epoxy paint? You may ask, what's in a name, they both refer to the same epoxy product. Epoxy coatings and epoxy paints are often confused terms but nevertheless they are actually two different products.  You are not alone though because many industry experts also often interchangeably use these terms.
To make sure you are getting what you are paying for in the first place, you need to know the difference between epoxy coatings and epoxy paint.
Epoxy Paint
A latex acrylic product
Contains a small percentage of epoxy making it more durable than the regular acrylic paint.
Applied as a single coat.
Requires drying time.
Concrete surface does not need to be prepared prior to application.
Applied on the floor just as you would apply paint on ceilings and walls.
No concrete surface preparation needed.
A quick fix which will not last long as the concrete surface will start to get exposed after a few months.
Epoxy Floor Coatings
Consist of a resin and a hardener mixed together to create a chemical reaction producing a thin plastic-like material that when applied adheres with the concrete surface.
Requires curing time.
Resistant to chemical spills, stains and abrasion.
Proper preparation of the concrete surface is needed (grinding or shot blasting to get rid of contaminants).
Applied in layers.
A permanent flooring system which has a long life-span.
Epoxy Floors Los Angeles only installs 100% solid epoxy floor coatings without any solvents. This ensures you are getting only the toughest and most durable  Los Angeles epoxy floor coatings. Our epoxy floor coatings range from about .2 mils to 250 mils or ¼ inch and in certain instances even thicker.
How to Decide on the Thickness of Epoxy Floor Coatings
There are a few things to consider when deciding on the thickness of Los Angeles epoxy floor coatings.
Condition of the concrete surface. Old concrete surfaces will require thicker epoxy coatings on the other hand, new concrete surfaces willl need thinner eposxy coatings.
Chemical exposure of the area. Factories, manufacturing and industrial facilities will require thick epoxy floor coatings because of the chemicals they use to make their products.
Expected traffic. High traffic areas will also need a thick epoxy coating. Commercial garages, factories, and manufacturing plants will require thick epoxy coatings while a hallway or residential garage with light foot and equipment traffic will require thinner epoxy coatings.
These factors will help you determine the thickness of your Los Angeles epoxy floor coatings. We take these factors seriously to allow us to provide you with a tough, durable and long lasting epoxy coating.
Epoxy Floor Coating Preparation
A properly prepared concrete surface is important in ordder to have a successful installation of your epoxy floor coatings. An extremely clean concrete surface will ensure that the epoxy coating will adhere well to the concrete surface.
Los Angeles epoxy floor coatings installers make sure your concrete surface is properly prepared prior to epoxy coating installation:
Repairs and patches all major chips and cracks on the concrete surface.
Removes all grease, oil and existing sealants.
Removes all dust, dirt, debris from the concrete surface.
Grinds the concrete surface to make sure it is smooth and level.
A properly prepared concrete surface will make sure you get a beautiful, durable and tough epoxy floor coating that will last for many years.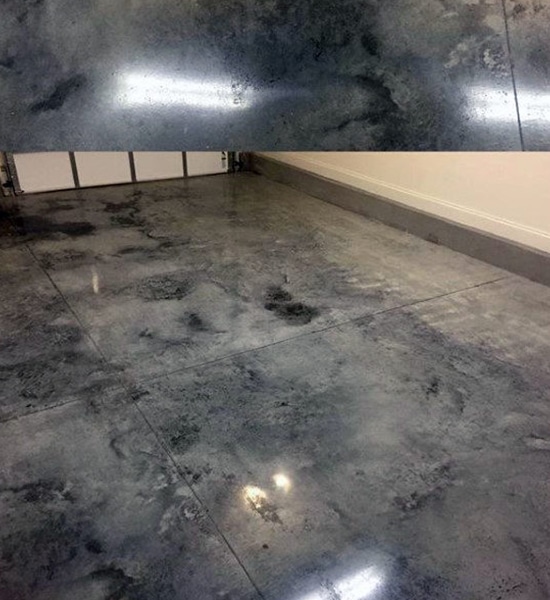 Epoxy Floor Coatingss Installation
Los Angeles Epoxy Floors also makes sure epoxy floor coatings are installed based on manufacturer's recommendation and under suitable temperature. The concrete surface must have a 550F minimum temperature and air temperature must be between 600 and 900. with these temperatures the epoxy floor coating will definetely cure well.
Whether it is for residential, commercial or industrial applications, Epoxy Floors Los Angeles' epoxy floor coatings are sure to provide beautiful, durable, high-performing and low maintenance floors you desire.
Epoxy floor coatings cost may be higher than other flooring systems but the benefits these flooring system provides far outweighs the cost.
We install epoxy floor coatings for commercial spaces such as restaurants, hotels, retail stores, supermarkets, malls as well as office buildings in Los Angeles, Callifornia. We also install epoxy floor coatings for industrial spaces such as factories and manufacturing plants. Schools and healthcare institutions also benefit from our epoxy floor coatings.
We work with the top manufacturers to bring you the best Los Angeles epoxy floor coatings. We have flake, quartz, metallic and many more coating options. Call us now for a FREE quote.