Do you want a unique flooring system for your home or business? We can concrete stain existing and new concrete to give it a rich color that will last for many long years. We have a wide range of stain colors you can choose from and a choice to add some decorative patterns as well such as stencils and saw cuts to transform your boring concrete floor into something more interesting with Los Angeles stained concrete.
Epoxy Floors Los Angeles provides the best stained concrete options.  Stained concrete achieves the richness no other coloring medium can match. Staining permeates deep into the concrete surface to create translucent and luminous tones to mimic the look of tile, ceramic or marble at the fraction of the cost.
We install Los Angeles stained concrete floors to transform your concrete floor into any look you desire to blend with the surroundings of your concrete wall, driveway, walkway, patio, or pool deck.
Borders, graphics, ceramic, tile and marble replication as well as stain blowing are some of the techniques we use for stained concrete.
GET A NO OBLIGATION
FREE QUOTE
Fill out this form and someone from our team will reach out to you shortly.
Benefits of Stained Concrete
We can do Los Angeles stained concrete on existing and likewise new concrete surfaces. Stained concrete floors are aesthetically appealing and look very professional. Here are some of the benefits of stained concrete that has made it become a popular flooring option for residential, commercial and industrial spaces.
Durable
Durability is one of the major benefits of having stained concrete flooring. Stained concrete is tough and durable. The stain will not fade, crack, peel or chip and holds up over time.
Attractive Finish
Stained concrete looks extremely magnificent. It can add richness and character to any indoor or outdoor area. It can transform an otherwise dull and boring concrete surface into an aesthetically appealing and luxurious floor. In fact,  it can even  that can even mimic the look of flooring alternatives that are more expensive such as marble.
Customizable
Stained concrete floors are done based on your own design preferences. The look, finish and texture of your stained concrete floor can be done to achieve what you have in mind. You can use a combination of patterns, colors and graphics as you wish.
Water Resistant
The presence of moisture will not affect stained concrete floors. It will not grow mildew or mold, rot, discolor or warp when exposed to moisture.
Healthy Option
Stained concrete floors will not hold dust and dust mites. Without these allergens the area where stained concrete is installed will be a healthy area that is easy to clean by occasional sweeping. On the whole, without these allergens, indoor air quality in residential, commercial and industrial spaces is also improved.
Low Maintenance
Stained concrete Los Angeles floors are smooth and seamless surfaces making them easy to clean and requiring low or no maintenance.  Dust, dirt and debris are not trapped in the floor because after all, stained concrete is a seamless surface. These floors only require occasional sweeping and damp mopping.
Cost Effective
Stains used in stained concrete floors absorb and release hot and cold air so you can expect to save on electricity costs. Concrete floors are easy to clean and maintained so you will likewise be saving on cleaners and manpower. These floors are durable and will give you long years of use.
At Epoxy Floors Los Angeles our expert and experienced installers use acid and water-based concrete floor stain. We begin the stained concrete process by preparing and cleaning the concrete surface through concrete grinding or shot blasting when necessary and special cleaning agents.
At Epoxy Floors Los Angeles our expert and experience installers in stained concrete installation use a mixture of metallic salt, acid and other materials which react chemically to change the color and composition of the concrete surface. We have a wide array of concrete stains to create your designed look or design.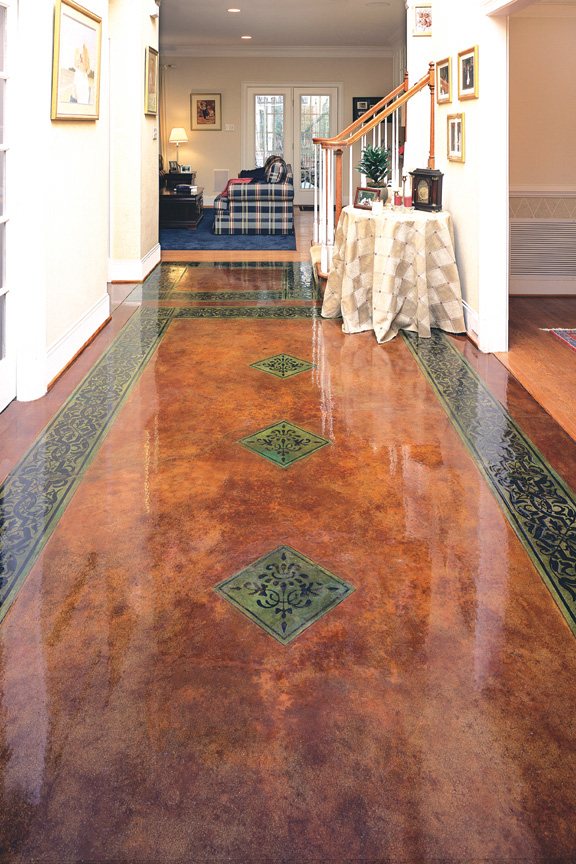 How to Create Stained Concrete Floors
In how to stain concrete, acid or water-based stains can be applied on existing or new concrete. Acid-based stains provide depth and natural color to concrete floors. The palette of acid stains includes earthy tones including browns, tans, soft blue-greens and terra cottas.
If you want to be bolder, water-based stains comes in a broader palette of hues. They are available in standard colors such as black and white. Water-based stains also come in metallic tints.
Acid and water-based stains penetrate deep into the concrete surface resulting in a permanent color. We use new and advanced staining technology to create unique and one-of-a-kind finishes and colors.
Concrete surfaces applied with exactly the same stain color, shade and technique will not produce the same results. The age, texture, porosity, composition and the surrounding environment of the concrete surfaces affect the final color and finish of stained concrete giving each project a unique look.
Stained concrete Los Angeles, California can completely revitalize an entire area if it is done right. Acid or water stains available! Call us now for a FREE quote.