If you are searching for a new flooring system for your home or business, Los Angeles polished concrete might be the best solution for your home or business in Los Angeles. Polished concrete has been in the market for some time but has in the recent years been increasing in popularity.
Why Us?
Epoxy Floors Los Angeles delivers premier polished concrete floors that do not need any waxing to maintain its natural sheen.
We use the latest and most advanced concrete polishing techniques and polishing equipment to grind existing or new concrete floor services to achieve a high gloss finish that requires no coatings and waxes.
We have installed polished concrete in office facilities, warehouses, retail stores, home patios, pool decks and more as a good alternative to the more expensive granite, marble and tile flooring options. Polished concrete can be stained to mimic the look of these polished stones.
We do polishing concrete in multiple steps thus you can choose its level of sheen. You can choose from between a satin finish to a high-gloss finish depending on your aesthetic and maintenance requirements. This makes polished concrete versatile and ideal for a wide array of applications.
GET A NO OBLIGATION
FREE QUOTE
Fill out this form and someone from our team will reach out to you shortly.
Benefits of Polished Concrete
It may seem that polished concrete floor cost is an additional expense to transform your dull and boring home or business concrete floor into one that is aesthetically appealing. Los Angeles polished concrete, however, comes with numerous benefits that make this flooring system self-liquidating in the long term.
Durable
Los Angeles polished concrete floors are resistant to abrasion, oil and chemical spills, tire marks and are able to withstand high foot traffic. These floors are highly durable and will last longer than most other floor coatings.
Customizable
Los Angeles Polished concrete floors are highly customizable to achieve your desired look. Floors can be dyed in a variety of colors and can be embedded with a wide array of decorative options. You can also choose from light to very heavy aggregates and can even create a high gloss finish.
Polished concrete can be made to replicate different flooring materials including ceramic tiles and stones while being more durable and low in maintenance. Patterns can also be embedded into the surface when new concrete is wet to create the effect of faux tile.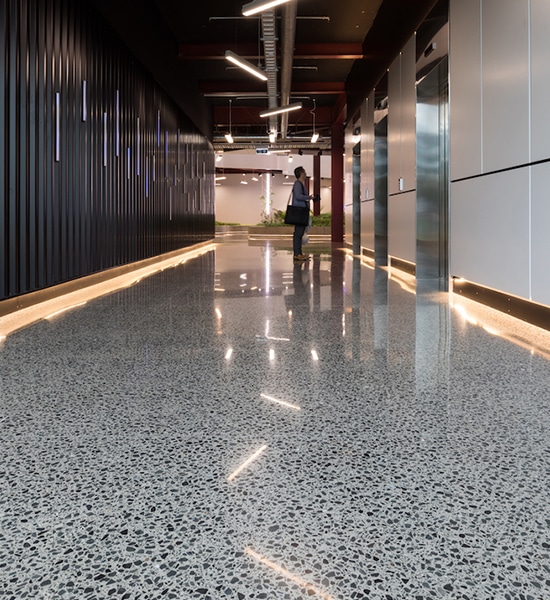 Easy to Maintain
Low maintenance with a longer life span is one of the main selling points of polished concrete. in faact this flooring option does not need to be waxed. This flooring option is also resistant to stains from chemical, grease oil, heavy foot traffic and forklift tires, occasional cleaning with a damp mop is all that is needed to maintain its luster.
Reflects Light
Los Angeles polished concrete highly reflects light increasing ambient lighting making your home or business look cleaner and brighter.  The high degree of shine reduces the need for artificial lighting bringing down electricity costs.
Moisture and Stain Resistant
Los Angeles polished concrete seals and tightens the concrete floor. Polished concrete transforms the once porous concrete surface into a smooth and seamless surface that repels liquid, grease, oil, chemical substances, and any contaminant from penetrating the concrete surface.
Resistant to High Foot and Vehicle Traffic
Too many people in your home or business will not in any way damage a polished concrete floor. Heavy equipment and vehicles such as forklifts in warehouses and manufacturing plants will not cause polished concrete floors to chip or crack as well.
Enhanced Sip Resistance
Although polished concrete floors have a shiny surface it is not slippery. Mechanical grinding (polished concrete process) increases the friction coefficient than ordinary concrete floors.
Abrasion Resistant
Polished concrete will transform a concrete surface with rough and uneven texture into a smooth surface without any joints that can resist abrasion.
No Hazardous Chemicals
Polished concrete floors do not require hazardous chemicals or adhesives to install or harsh cleaners to clean and maintain.
Long Life-Span
A well installed polished concrete flooring system will last for many years requiring only minimal maintenance.
How the Polished Concrete Process Works
We create Los Angeles polished concrete floors with mirror-like, glossy finishes. We have a wide array of design options for you to choose from, as well.  You can choose from various colors, embed aggregates or any objects you wish and create your own patterns.
We use the mechanical process in grinding and polishing your concrete floor. We have state-of-the-art tools and equipment as well as expert and experienced installers to work on this multi-step process.
We can give your concrete floor in Los Angeles, California a high degree of shine to replicate the look of granite or marble. We can stain your concrete floor during the polished concrete process to mimic the color of stone. We can also grind a few millimeters more on the top of the concrete surface so the aggregate may be exposed and create a terrazzo look.
We specialize in durable and affordable Los Angeles polished concrete and making your concrete slab look beautiful. Call now for special discount pricing.